CLARK WILSON 360 CERTIFICATION WEBINAR $600
2022/2023 Webinars

Tuesday, December 6, 4:00 PM - 6:00 PM EST
Thursday, January 12, 8:30 AM - 10:30 AM EST
AGENDA:
WHAT'S INCLUDED:
Access to extensive technical and support materials.

One complimentary assessment and half-hour of post-seminar telephone consultation is included to help you conduct your first live case.

These services and support would normally be valued at $1545 if purchased separately, but are discounted to $600 for certification participants.
INTERACTIVE WEB REPORTING
Reporting Dashboards
Review summary level data and click on a data point to drill down to the score details.

Easily turn rater groups on and off to focus or compare specific sets of data.

Toggle between Raw and Centile Scores, while some graphs also allow you to sort Highest to Lowest, Lowest to Highest, or by Competency order.
Universal PDF Reports
PDF reports are full color with stunning visual displays of 360 survey data.

Easily spot YOY development trends by comparing current with previous scores.

Development planning, resources, and tips to guide improvement, if available.

Aggregate roll-ups of scores and ranks.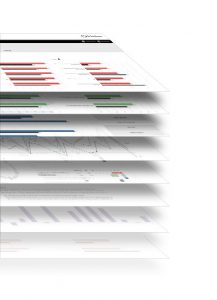 DID YOU KNOW?
Clark Wilson originated the concept of 360 feedback for management training and development in the early 1970's.

All Clark Wilson surveys are reliable, validated and role-specific.

The product line is backed up by 40+ years of rigorous statistical research and has a proven track record of showing executives and managers how to change their behaviors for positive business impact.
WHAT IS A VALIDATED 360 FEEDBACK SURVEY?
Validation is a research process that aims to show whether an instrument actually measures what it was designed to measure. It is a valuable feature in any published feedback survey.  There are many types of validation studies. In the case of 360 degree feedback for training and development purposes, survey designers strive for construct validity. Construct validity is evaluated by determining how well the concepts behind the instrument account for an individual's performance on the instrument. For example, the Survey of Management Practices from the Clark Wilson Task Cycle series measures the universal behaviors that are predictive of an effective manager. A manager with a strong record of success should have high scores on the survey whereas a manager whose performance has been weak should have low scores.
The Task Cycle® is a validated organizing tool that can help leaders know where to focus their development. It is presented as a logical sequence of events, with each phase contributing to achieving the final goal.
Task Cycle® name and image are registered trademarks of TruScore®