The Hogan 360° is an easy-to-administerquestionnaire for comprehensively reviewing leaders at any level of management. Developed in conjunction with Peter Berry Consultancy, the Hogan 360° is a comprehensive multi-rater feedback tool designed to help leaders understand how their peers,managers, and direct reports view their performance.
Specifics:
• Driven by a self-evaluation benchmarked against peer, manager, and direct report feedback
• Participant assessment time: 15 minutes
• Individual feedback recommended by a Hogan certified practitioner
Certification Required
• Report Training Required
Hogan 360º Leadership Model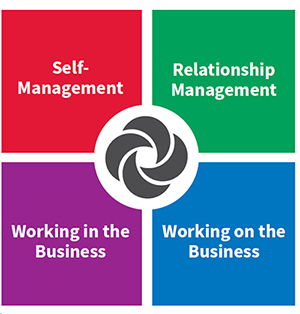 Hogan 360º Leadership Model
Self-Management
Refers to personal awareness, stress management, resilience, integrity, and authenticity
Relationship Management
The ability to achieve better results through improved relationships
Working in the Business
Having the capability and efficiency to consistently deliver great results. It requires passion and competitive drive to stay in the performance zone
Working on the Business
Adding extra value through innovation and strategic planning, and building motivated, accountable teams
What are the requirements to use the Hogan 360° report with Hogan Personality and Cognitive assessments?
The Hogan 360° can be used standalone or with the Hogan Assessments. Individuals are required to meet Hogan and local requirements with regards to Hogan certification, and are also required to complete the Hogan 360° qualifying webinar or be trained by a Hogan distributor.
Is feedback required?
Participant feedback is highly recommended and is in line with best practice. 360 results can have significant impact on the participant and therefore feedback is important.
IT PAYS BY IMPROVING SELF-AWARENESS, PERFORMANCE AND REPUTATION.
Combining the Hogan 360 with the Hogan personality assessments is the most effective way to assess leadership capability.
Personality assessments predict reputation; the Hogan 360 measures reputation through collecting observer ratings.
Strategic self-awareness is enhanced by benchmarking one's results in the Hogan 360.
The Hogan 360 measures both behavioural and business competencies.
The Hogan 360 creates sustainable learning and coaching opportunities for the next year.
It facilitates behaviour change through understanding reputation and delivering reputational change.
Improving leadership effectiveness leads to improved engagement and performance, and better organisational results.i ii iii
The Hogan 360 is repeatable and so is the continuous improvement journey.
The Hogan 360 pays with results for the individual, the team and the bottom line.
We have been a leading distributor & training provider of Hogan Assessments for over 20 years.
PPI chose Hogan instruments over many others because they meet our criteria for excellence in workplace assessment, including rigorous scientific standards and no adverse impact.